Barometrul ISACA Riscuri-Beneficii IT 2011
ISACA a publicat rezultatele unui sondaj efectuat pe baza răspunsurilor primite de la liderii în IT la nivel mondial.
45% din cei intervievaţi consideră că device-urile mobile deţinute de angajaţi prezintă un risc mult mai mare pentru companie decât device-urile mobile furnizate de companie, conform Barometrului Risc-Recompensă IT din 2011 al ISACA.
Totuşi, merită menţionat că aproximativ un sfert dintre respondenţi au considerat că beneficiile aduse de folosirea acestor device-uri mobile de către angajaţi la birou depăşesc riscurile asociate.
Sondajul a inclus 2765 de membri ISACA şi profesionişti în IT, şi are şi segmentări realizate pe baza apartenţei geografice. Puteţi accesa direct rezultatele specifice pentru Europa.
Un alt rezultat important al acestui Barometru, aflat în 2011 în al doilea an de funcţionare, a fost că un concept relativ nou, acela de "Cloud Computing", creşte în acceptanţă. Având în vedere că atunci când vine vorba de Cloud Computing, securitatea datelor e unul din cele mai importante aspecte, companiile recunosc faptul că dezvoltarea unor aplicaţii în Cloud trebuie să fie însoţită de măsuri de securitate specifice, bine implementate. Totuşi, riscurile trebuie să fie bine calculate dar asumate, fiindcă a împiedica implementarea conceptelor de Cloud Computing, cu beneficiile aferente, ar putea însemnă împiedicarea progresului companiei ca ansamblu.
Conform sondajului, specialişti intervievaţi se aşteaptă ca în perioada următoare cerinţele companiilor în zona de securitatea informaţiilor şi risk management să crească şi să aducă cu sine o creştere a echipelor de angajaţi care se ocupă de aceste aspecte. Idea este oarecum surprinzătoare în condiţiile în care majoritatea participanţilor la sondaj se află în zone cu o revenire economică destul de lentă.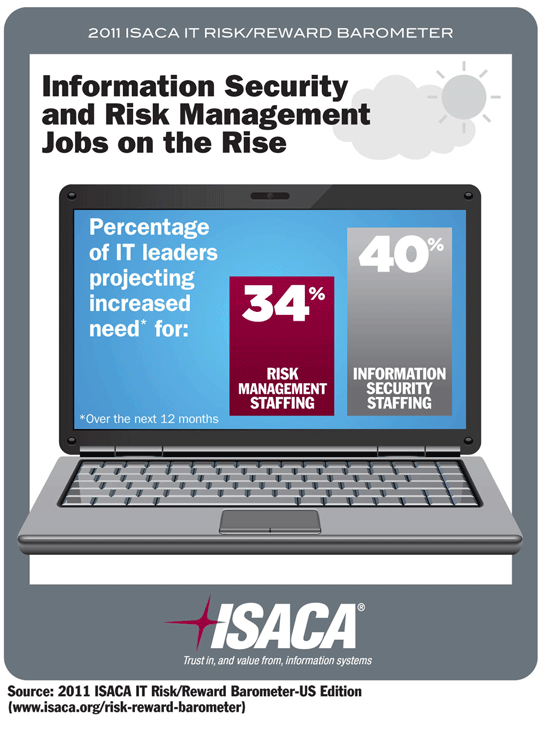 Barometrul de Risc-Recompensă IT, aflat deja în al doilea an, oferă nişte informaţii cuantificate cu privire la atitudinea şi comportamentul organizaţional cu privire la riscurile şi beneficiile asociate cu proiecte de IT şi noile trenduri în domeniu. Pentru a vedea rezultatele complete, puteţi vizita pagina Barometru Risc-Recompensă de pe site-ul ISACA, unde veţi găsi şi rezultatele de anul trecut.
Leave a Comment
You must be logged in to post a comment.